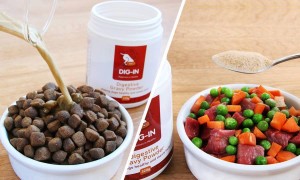 I have had a few calls on the 1300 Dig-In number asking me, how do I know that Dig-In works?
Well, to start, Dr Tivey spent many years researching the basis for food borne allergies and the root causes of the problem. This fundamental science work gave us the strong basis for the later development of Dig-In.
After Dr Tivey and I spent time developing the current Dig-In product, we knew that we had to test the product, not in a laboratory environment, but in a range of homes with real people and their pets.
So in 2013, we arranged an in-home 30-day trial. In total, twenty one dogs took part in the trial and their homes were spread from Queensland to Perth in Western Australia. Pet carers were asked to mix Dig-In with their pet's daily meal. They were also asked to provide information regarding their pets and their own responses to the product. This information was gathered before the trial commenced, at the 7-day mark and after the trial had concluded at the 30-day mark.
The results were amazing!
We asked a series of basic questions for the pet owners to consider when reviewing how their pet liked the product. Here are the questions and the owners' responses:
Did you think that Dig-In was easy to handle and simple to prepare?
Most of the applicants (94%) were either happy to prepare the product or willing to do it as they saw a positive benefit for their pet.
Here is a selection of the owners' responses:
"Too easy – no problem at all."
"Not a problem, if it is good for the dog then I am satisfied too."
"I am used to a complex diet for Chica, with a variety of supplements in her diet. Adding the gravy was no difficulty, and was not a complicated process."
"My dogs would sit and wait while I mixed up the gravy. It was no extra work at all."
"It was a pleasure doing it. I loved watching my dogs waiting for their food."
Did your dog like Dig-In?
Dig-In Digestive Gravy Powder must have high animal acceptance and palatability.
89% of the respondents indicated that their pets were either "Extremely Satisfied" or "Moderately Satisfied" with the product.
Here is a selection of the owners' responses:
"Shelby would often take a while to eat her dinner but seems a lot more interested in it with the gravy on it."
"They seem to love it."
"She has always loved her food, but she would spend ages cleaning her bowl for every minute trace of the gravy."
"Always looked for more, they loved it."
"Hannibal loved every bit of it and would look for more."
"My dog loves to eat anything. He is more than happy to eat the powder on the dry dog food but LOVES when we added some water to make the gravy. Licks the bowl."
"Libby scoffs it down as I put a small portion on a plate with some raw meat, and then eats the kibble."
Does Dig-In Work?
Dig-In Digestive Gravy Powder must deliver a positive and observable health benefit to the pet in the target areas of digestive and allergy control.
Health and Wellness products, in most food categories, deliver little in terms of immediate and observable benefits to the consumer. This is true for both pet and human food. For pets, the most observable impact on changes to digestive health will be seen in the quality of the faeces.
As we all know, cleaning up after your pet is one of the least enjoyed features of pet ownership. When a pet's stool is loose or even diarrheal, it presents a particularly unpleasant task, and sometimes, it can also present a significant health risk to the person cleaning it up.
The owners were asked to rate their pet's stools before the trial, at the 7-day mark and after the trial period using a series of internationally recognised pet stool quality photographs called the Waltham Faeces Scoring Guide. While this may have a high "yuk factor", it is the only way that we would know for sure that there is a change.
In summary the results show the following trend:
Pre-Trial: 33% dogs had acceptable stools
7-Day Survey: 60% dogs had acceptable stools
Post-Trial: 79% dogs had acceptable stools
The results show that a change in stool quality has resulted from the addition of Dig-In Gravy to the dog's diet. It has also had a positive impact for the pet owners as it made the daily clean up easier. It also gave the owner a sense of wellbeing from the fact that they can see that they are helping improve their pet's digestive health.
Here is a selection of owners' responses:
"A lot easier to clean up. Shelby would often have severe bouts of diarrhoea 5 and 4.5 but since using the gravy the worst I have had is a very little of 4."
"I think they have definitely improved heaps."
"It has improved plus it seems to be less."
"Hannibal's stools are firm in texture. He only goes once a day for a stool motion."
"Very easy to pick up. Great advantage for me….the picker upper."
"He had been suffering from all sorts of stools before he had the gravy and kibble, even with just the gravy his stools were a mixture of wet and very sloppy, but when mixed with the kibble, Morgan's stools were almost perfect, and that is pretty good considering he is on and off all sorts of different medication."
"Not watery any more but still could be firmer… No more poop in the house which is very nice!"
"Better formed and less runny."
Following the 30-day trial and extensive testing, the results proved that Dig-In is a product that is good for your pet's health and that you will see a noticeable difference in their digestive health and overall wellbeing. Why not discover it for yourself?