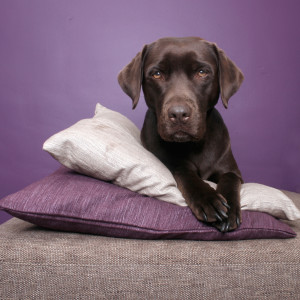 We have all noticed a sudden drop in temperature. The days are getting shorter and the nights are getting colder. While we can rug up in scarves, jackets and booties our pets have only their fur to rely on to keep them warm.
It is easy to forget that household pets are domesticated and feel the cold just like we do. It is important to consider your pet's well being during the winter months especially for animals who are older or who may have health problems.
We have included our top tips for keeping your pets comfortable during the winter months.
Keep up healthy habits
During winter it is important to keep your pets active. Regular exercise will improve circulation, boost immunity and relieve any tension on joints. This is particularly important for older pets or animals who suffer with arthritis as the coder weather can aggravate their joints making them stiff and difficult to walk on. You may want to speak to your vet about adding fish oil to your pet's diet to relieve any pain they are experiencing.
Pets are also prone to put on weight over winter which can be normal as the temperature drops your pet will become more inactive. It is important to make sure your pet is eating healthily over winter. By giving your pet Dig-In you can keep them in good health by regulating their digestive system, reducing skin irritations and improving ear function.
Regular Health Checks
It is important to make sure your pet is up to date with their health check ups and immunisations over winter to aviod health problems. It is also important to watch for signs of illness such as lethargy, vomiting and sinus trouble which may indicate they have picked up a virus or bacterial infection. Another common problem faced by pets during winter can be cracked and inflamed paws from cold and wet backyards.
Fresh Water
You pets will still require plenty of fresh-water in winter especially if they are spending time indoors as the heating can dehydrate them quickly. Make sure you replace your pets water daily and keep the container clean and keep the bowl away from direct sunlight or other heaters.
Warm and Comfy Bedding and Clothing
During winter you may need to reconsider where your animal sleeps. Provide your pet with extra bedding and blankets during winter to keep them comfortable. This does not have to be expensive, you can use old blankets and pillows from your home. You may also notice they are sluggish in the morning due to the cold temperatures, this is normal. Slim pets will feel the cold more and should be provided with a warm coat to keep them insulated.
Maintain Grooming Regime
Don't forget your pet still needs to be groomed during the winter months, if your pet has longer fur and is wearing a coat during winter it is highly likely they will have matting. By visiting your groomers regularly you can prevent any discomfort to your pet. Your groomer will also be able to spot any skin conditions with your pet brought on by the cold.