Digestive Gravy Powder for Dogs
Dig-In Digestive Gravy Powder is an all natural food-based health supplement, which is simply added to your dogs dinner. It has been scientifically developed to aid with the common symptoms of food allergies, in particular targeting digestive repair, and skin and ear irritations. Plus your dog will LOVE the taste of their dinner and Dig-In for more and more!

Buy Now including FREE Shipping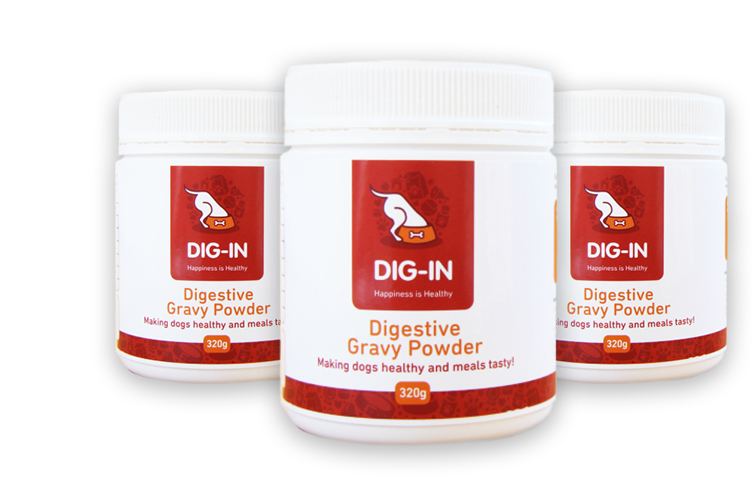 ---
The benefits of using Dig-In for your dog
Dig-In fights against any nasty bacteria in the digestive process, and builds a stronger immune system to ease the common symptoms of food allergies. We've got them all covered in one simple powder!

Additional benefits:
Enhances the consumption of dry & wet pet foods.
Increases the growth of healthy bacteria in the stomach.
Great for dogs recovering from illness or needing to rebuild stamina.
Provides essential nutrients for intestinal repair.
Helps to protect against harmful mycotoxins.
Visible improvement in overall wellbeing and happiness of your dog.
---
Dig-In deeper to our story…
Dig-In Digestive Gravy Powder has been developed by two food scientists with a belief in lifelong health and wellbeing, an enthusiasm for experimenting with product development... and a love of dogs.
We believe in prevention, not cure. Our goal was to produce a 100% natural product that will fight the root cause of the most common symptoms of food allergies in dogs, and provide long-term relief. Dig-In is developed and manufactured in Australia, aiming to bring health and happiness to households around the country. Feel free to read more about us!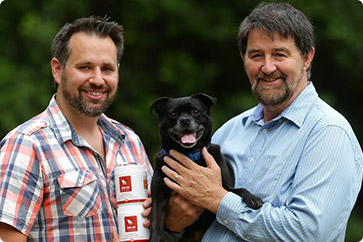 ---
Get the benefits of Dig-In today
Give your dog a healthy treat with Dig-In Digestive Gravy Powder. Meal times have never been so enjoyable, and you will visibly see the improvement in your dogs everyday health and happiness. Apply it as a powder to wet food, or add water to make it a gravy to enhance the palatability of dry food.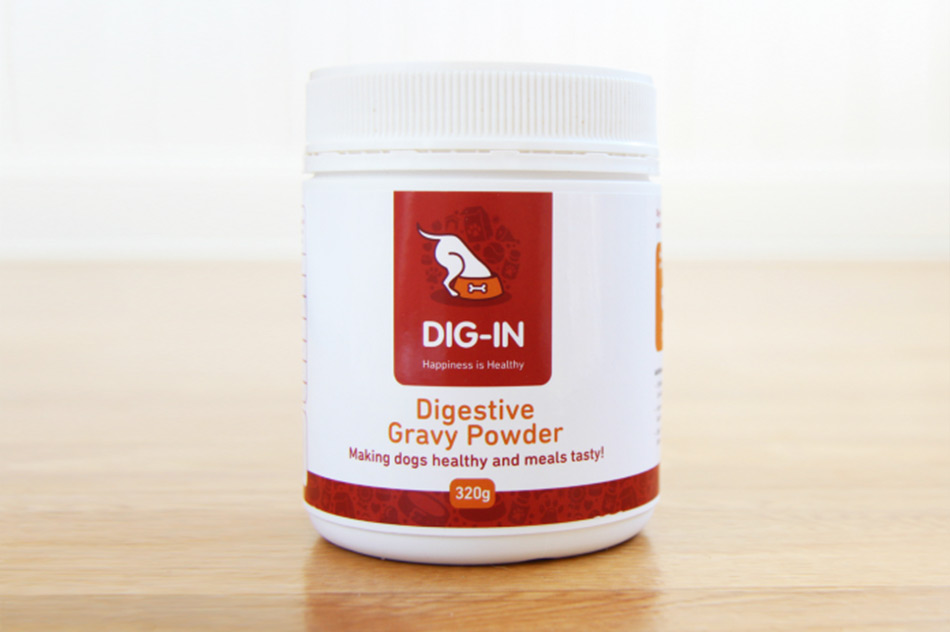 Dig-In Single Pack
$35.00Add to cart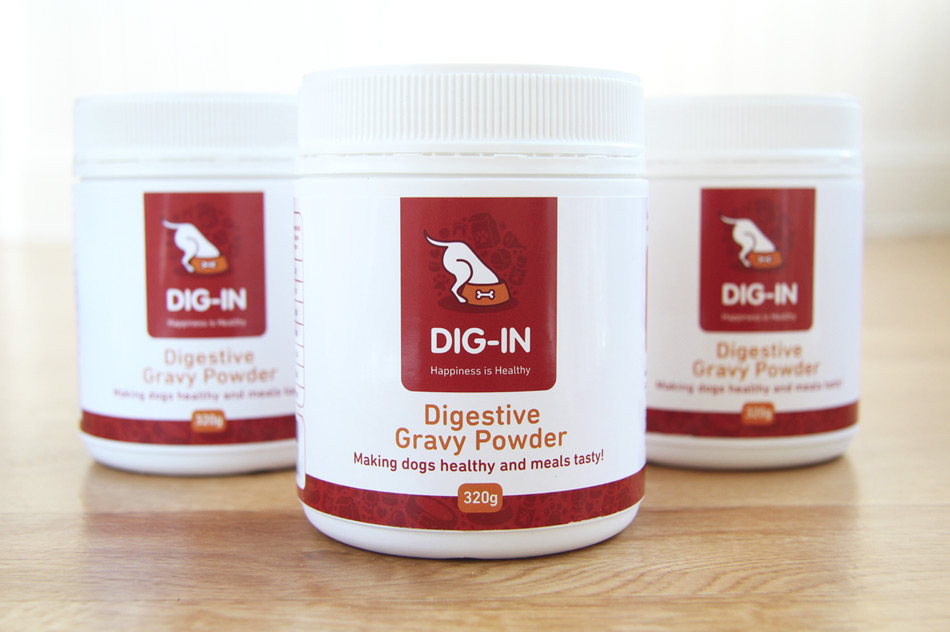 Dig-In 3 Pack (saving of $20)
$85.00Add to cart

---
How should I feed Dig-In Gravy Power to my dog?
Wet food diet (canned/chilled meats, etc.): Just sprinkle the powder on top or mix into your dog's main meal.
Dry food diet: You can either sprinkle the powder onto the meal or make a gravy by mixing the powder with 3 to 5 times the same amount of warm water. Mix well and pour over your pets meal.
| Dog Weight | Up to 4kg | 4 - 8kg | 8 - 12kg | 12 - 16kg | 16 - 20kg | 20 - 25kg | 25kg + |
| --- | --- | --- | --- | --- | --- | --- | --- |
| Recommended Daily Usage Maximum | 1 tsp | 2 tsp | 3 tsp | 4 tsp | 5 tsp | 6 tsp | 8 tsp |
---
Ingredients
Yeast and Yeast products, Vegetable flour and fibre (derived from Potato, Chicory and/or Carrot), Natural Mineral Blend, Glucose, Natural Flavours & Vitamin C.
Scientifically formulated using 100% natural ingredients.
Typical Analysis:
| | |
| --- | --- |
| Protein | 22.0% |
| Fat | 2.7% |
| Fibre | 14.5% |
| Calcium | 1.1% |
| Phosphorus | 0.9% |
Kilojoules:
| | |
| --- | --- |
| Per Serving | 23KJ |
| Per Tub | 1857KJ |
---
Read about our customer experiences…
Hear stories from our valued Dig-In dog community to find out more about how Dig-In has brought health and happiness to others dogs.



"I would definitely recommend Dig-In to my friends and let them know the benefits my dog has received from it. Bandit loves his meals and has not been scratching at all, his coat is so soft and shiny… and he's also extremely frisky!"

Margaret & Bandit




"Chica has always loved her food, but she now spends ages cleaning her bowl for every trace of the gravy! I definitely saw the benefit from using Dig-In Digestive Gravy Powder, and know how difficult it is to find products for a dog with allergy issues"

Paula & Chica