Ingredients
Don't Waste Your Efforts make Sure you add your Dig-In Fresh to make it complete.
Ingredients
Using 500g of Fresh, Canned or Frozen Fish
Using 1kg of Fresh, Canned or Frozen Fish

Salmon, pink, 

(You can use either Fresh, frozen or canned Salmon)

500 g

1000 g

Sweet potato

300 g

500 g

Spinach,

75 g

150 g

Egg, whole

1 egg

2 eggs

Canola Oil

3 tablespoons

1/3 cup

Fish Oil or Cod Liver Oil

½ teaspoon

1 teaspoon

Sunflower Oil

½ tablespoon

1 tablespoon

Dig-In Fresh

50 g

100 g

Yield (allowing for cooking losses)
800 g
1600 g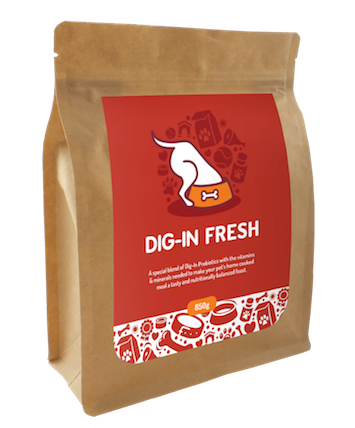 You WILL Need Dig-In Fresh! To make these delicious meals nutritious too!
The perfect combination of vitamins and minerals that is simply added to your homemade dog-food. The right amount of the right stuff to ensure your DIY efforts are made super tasty and super healthy.
Nutritional Facts (ONLY when using Dig-In Fresh)
Servings Per Recipe: approx 10
Serving Size: see feeding guide below
---
Typical Nutritional Panel for Cooked Meal

Protein

14.0

%

Fat

8.6

%

Metabolizable Energy (ME)

150.4

kcal/100g

Calcium 

672.9

mg/100g

Phosphorous

533.1

mg/100g

Calcium: Phosphorous balance

1.3

 

Zinc

87.6

mg/kg

Vitamin A

5860

IU/100g

Vitamin D

2810

IU/kg

Choline

768

mg/kg

Linoleic Acid

1.58

%

Ratio Omega 6: Omega 3 Fatty Acids

1.56